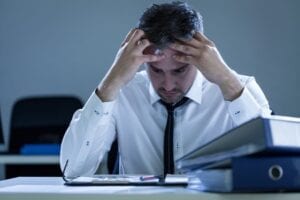 An executive job search can be draining mentally and physically, and if it extends more than a few months, it can take a toll on your confidence and self-esteem. Fear of uncertainty, financial stress, self-doubt, and feelings of hopelessness can start to creep in. But there are many things you can do to boost confidence during an executive job search.
Clearly define what you want.
Look at your job search as a two-way street – it's not just about finding a company seeking your qualifications; you also want to make sure that they are a good fit for you, your values, and your career goals. Remember all that you have to offer!
What responsibilities are you looking for?
What type of company do you want to join?
Where do you see your career heading?
What type of company culture would be a good fit for you?
Know your qualifications.
A great way to give yourself a confidence boost is to sit down and write out all your skillsets and qualifications. Keep a running 'win sheet' where you jot down the specifics of any significant accomplishments. While you won't necessarily list all of these on your resume, having a master list of your core competencies and soft skills makes it easier to customize your resume and cover letter for a specific role. It also reminds you that you're a highly qualified candidate!
Ask for help.
You don't have to go solo in your job search! Reach out to your network, talk to friends, or enlist the help of a professional resume writer or career coach. They help you nail down your career goals, create an incredible file, and practice for interviews. An outside perspective that reminds you of your accomplishments and self-worth is invaluable.
Prepare, prepare, prepare.
The more prepared you are, the more confident you will feel. Thoroughly research the company to customize your resume and cover letter. Brush up on your interview skills (especially if it's been a while) and conduct practice interviews to ensure you show up feeling confident and self-assured, knowing what you have to contribute to the organization.
Prepare and practice answers for commonly asked questions and create a list of questions to ask your interviewer. It's also a good idea to craft a 20-30 second elevator pitch and a brand statement that will help you make an incredible first impression.
Keep it in perspective.
Remind yourself how your job search fits into the grand scheme of your life. One day, when you're working at your dream job, you'll look back to realize this was a stepping stone to success. In most cases, the worst-case scenario during a job search is that you won't receive this offer. Consider this a good thing. Perhaps this role wasn't a good fit, and the right one is just around the corner.
Work hard to keep a positive mindset.
A big piece of keeping confidence up during an executive job search is intentionally catching negative thoughts as soon as they pop into your mind and pushing them away before they can take root. Pay close attention to your inner critic, and silence them when you feel it speaking out of turn. Be sure to take time to focus on keeping a positive mindset intentionally.
Put imposter syndrome in its place.
The fear of not being up for the job may creep into your mind during your job search, especially when some positions have a mile-long list of requirements. If imposter syndrome starts to creep in, remind yourself of your worth, qualifications, and what you have to offer a company.
Don't take rejection personally.
Harder said than done, I know. But think about all the reasons someone doesn't get a job…maybe another applicant has a friend on the inside, or an internal candidate came forward within the company. A job rejection doesn't mean you weren't qualified or incredible at what you do. It simply means that the position wasn't the right fit for you.
Take care of yourself.
Try not to get so focused on your job search that you lose sight of what else is important in life. Be sure to keep up with your physical and mental health by giving yourself time to enjoy your hobbies and interests. You still need downtime to relax, have fun, and enjoy life – you can't job hunt 24/7.
Remember, it takes time.
You don't just want any job; you want THE job. Your perfect fit. A place where you can thrive and grow. Finding that takes time and patience; keep your confidence up during your job search, have faith that the perfect fit is out there, and keep at it.
Your perfect executive position is out there – stay patient and persistent, and you'll find it soon enough. Use the tips above to help boost confidence during an executive job search, and remember that you are not alone.
Check out my executive resume writing services on the site. For additional resources and tips to help you land your ideal role, visit Job Search Journey.