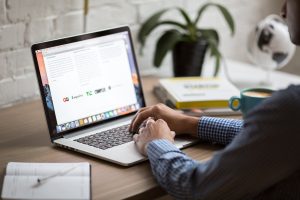 Creating an online presence during an executive job search is becoming increasingly important. Most employers will research executive candidates thoroughly, which often includes a search of their online profiles and presence.  Building a positive online presence ensures that you, as a leader, direct your narrative.
Benefits of an Online Presence During an Executive Job Search
The ability to share more in-depth details of career highlights and leadership accomplishments.
Less missed opportunities as employers passively or actively search for suitable candidates online.
Easier for others to refer or recommend through LinkedIn profile sharing or reference.
More personalized connection and value-sharing, giving organizations better insight into culture fit.
Improved searchability through targeted keywords when employers seek or research candidates online.
98% of employers conduct background research online, with 90% seeking out the social media profiles of job candidates
3 Steps to a Stand-Out Online Presence
Step One – Decide on how you want to brand yourself.
The first step to building an online presence during an executive job search is to develop your brand identity. How do you want people to see you?
As with any marketing project, you want to be clear on your messaging. Questions to ask when developing your brand identity:
Which areas do I want to be known for?
What are the main problems I solve?
How do I define my value proposition? What sets me apart from my competition?
What specific value do I offer organizations?
How do my skillsets, experience and education come together to paint a complete picture of my career story?
Positioning yourself as an expert in your field goes a long way to developing the type of online presence employers seek.
Step Two – Choose your platform(s)
You'll find an endless number of platforms to help you build your online presence. Depending on your industry, some will be a better fit than others.
LinkedIn is generally top-of-mind at an executive level, but Facebook, Twitter, or Instagram may also be good options, depending on industry standards. If it makes sense for your line of work, a personal website where you can display a virtual portfolio is another great option.
It's better to focus your energy on one platform and go all in than to spread yourself thin by showing up in too many places. Research each platform carefully, looking for the ideal fit for you, your goal, and your messaging.
LinkedIn – LinkedIn is the gold standard for executive job search and networking. Approximately 77% of recruiters use LinkedIn as their go-to platform, compared with 63% who prefer Facebook.
Using LinkedIn to Build an Online Presence:
Optimize your profile, filling in each section, using keywords employers may be searching
Be active on the site regularly, posting, engaging, and commenting
Create and share content to show your expertise and position yourself as an expert in your field
Actively seek out the type of companies you are looking for
Build connections and grow relationships
Twitter – Many companies use Twitter to post and promote job openings. Following your target companies can be a great way to be the first to know when they have a new position. Using hashtags on your posts can also be a great way to show up when employers search for keywords and phrases.
Facebook – While considered more of a personal platform, businesses may still look at your Facebook profile. Be sure what you post is in line with the brand identity you want to establish. Joining professional groups on Facebook can also help you network to find potential opportunities.
Step Three – Create and share content.
Sharing your expertise can go a long way to positioning yourself as an expert in your field. One of the best ways to do this is to create fresh content. Are you a good writer, natural on-screen, or a wiz designing infographics? Play to your strengths, and craft helpful content that shows (rather than tells) that you know your stuff.
You could also consider guest blogging for industry sites or agreeing to be a guest on a podcast. Sharing your expertise and providing helpful insights builds your brand and develops your online presence during a job search.
Sharing content others created (with your insights, of course) can also go a long way to building your online presence and positioning yourself as a thought leader in your field.
Building a standout online presence during an executive job search is quickly becoming an essential skill to master. Done well, it can get you in front of the right companies, show what you can do, and position you as a strong leader in your field.