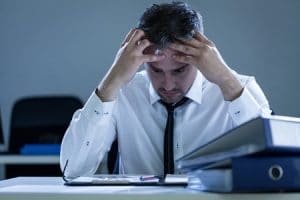 Job search burnout is real! Seeking a new career opportunity is one of the most stressful times in our lives; it is physically, emotionally, and mentally draining.
Remember that you are more than your work! This situation is temporary, and soon you will land your dream role and be on the other side. You are also not alone! Seek support during this difficult time. There are people and resources to help.
Avoid job search burnout and stay positive with these 10 tips:
Maximize Your Job Search
Mastering executive job search skills will boost confidence and give you a sense of control over your situation.  Craft a stand-out resume, network, ingrain yourself in your industry, make the most of social media, and get visible.
Think UP
Pay attention to your thoughts and self-talk. When you notice negative statements popping into your mind, replace them with something more positive. Reframe the situation, focusing on the wins a new opportunity brings.
Move Your Body
Regular exercise is a healthy coping strategy. Exercising 30 minutes a day, 3 to 5 times a week, reenergizes you, clears your mind, and releases endorphins that give you a boost. It can also increase confidence and encourage you to be more social.
Take Care of Yourself
Job search burnout can get you down – treating yourself well keeps you in the best spirits. Resist the urge to spend all your free time seeking out your next executive opportunity and focus on your well-being. Eat a healthy diet, exercise regularly, meditate, and carve out time for the things you enjoy.
Spend Time with Positive People
Choose your company wisely. Spend time with optimistic people who bring you up and help you stay motivated and inspired. Reach out to your network, set up coffee dates, seek out other job seekers, or consider hiring a mentor or coach.
Keep Up to Date
If you are out of work or not employed in your preferred industry, be sure you dedicate time to keeping up to date. Stay in the loop with industry news, keep in contact with your connections, or consider taking a quick course to learn a new skill.
Make the Most of Your Time
If you are out of work, take advantage of the extra time – read books you haven't had time for, tackle tasks you've been putting off, and spend time with loved ones. Just be sure to balance these activities in tandem with job search tasks.
Switch Things Up
Variety is the spice of life! Try something new in your job search, switch up your resume, try a new way of networking, attend a virtual conference, or volunteer to be an expert speaker.
Consider switching up your daily routine if yours has become stale. Create a morning routine that sets you up for success.
Embrace Small Wins
Sometimes a goal of 'getting a job' is overwhelming. This large goal only gets achieved at the very end. Instead, break down activities into smaller, more achievable tasks. Celebrate the day's small wins like meeting targets, making a new connection, or penning a great outreach email.
Read About People You Admire
Every successful person has struggled at some point. Reading about how others pushed through will help you focus on your long-term goals and what is on the other side of this challenging time.
Job search burnout doesn't have to take over – remember that this is not your permanent destination. Life is ever-changing, and if you stay positive and stick with it, you will find the executive role you covet.
If there is anything I can do to help make your job search faster and easier, please reach out.