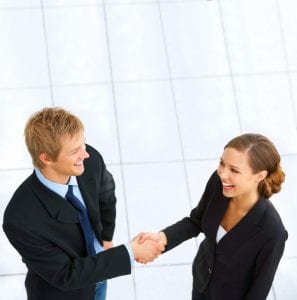 Are you effectively using a referral strategy in your executive job search? A nod from someone in your network is still one of the best ways to get your foot in the door. Employers are seeking suggestions from trusted sources – almost two-thirds of companies have a referral program in place.
How do you increase your chances of being referred for your dream job? It all starts with networking. The more professional relationships you have, the better your chances of landing that referral. You never know where you'll find your next executive opportunity!
5 Steps to Executive Referral Strategy
Nurture your network
Your network consists of people, not connections. Developing relationships over time builds trust and dramatically increases your chances of getting an authentic referral from someone who will sing your praises.
Reach out often and keep in contact with your network so you don't just pop up when you want something. Aim to build genuine relationships. Be helpful, share your knowledge and resources, and connect others you think might work well together.
As part of your referral strategy, you'll want to pass on the favour and refer your connections when the opportunity arises.
Research your target companies
Are there a few ideal companies you would like to join? Reach out to employees and seek out your 'in'! How can you create a mutually beneficial connection? The key here is to develop this relationship before asking for a referral. A person is more likely to recommend others that they know, like, and trust.
Be authentic, and over time, good connections could be your way into a dream company.
Connect the dots
Search through your network, friends, alumni, and professional contacts. Can you trace a line to someone who works for your target company? Initiate outreach with the person you know, sending a personalized message. When the time is right, ask for an introduction.
Craft an online presence
Particularly in this online hiring world, a strong presence on social media can go a long way to getting the right eyes on your resume. Increasing your presence on social media (particularly LinkedIn) is a remarkable way to meet new professional contacts.
Employers are also interested in your social media activity. In a Workopolis study, 93% of companies said they check social media profiles during the hiring process. Be sure all pages (both business and personal) develop your overall brand message – keep it cohesive.
Always Network
Aim to meet new people even when you are not actively seeking work. Attend industry events (either virtual or online), be active on social media, show your face, and initiate new connections. You never know when you may meet someone who brings you a fantastic opportunity.
Crafting a referral strategy dramatically increases your chances of getting your name in front of the right people. A referral is a great way to get your foot in the door or make you top of mind when opportunities pop up.
Creating a referral strategy is just the start. Your connection may share wonderful things about you – you have to be prepared to carry the process forward, sharing a knock-out resume that delivers on all those promises!
If you want to make more connections and develop new relationships, check out my post, Expand Your Networking Strategy.