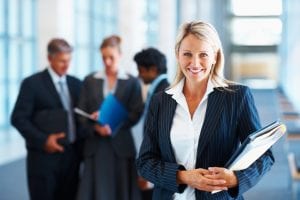 How do you successfully network your way into your next executive role? It's all about building genuine relationships and getting yourself visible in your areas of interest and expertise.
One of the best ways to find your next opportunity is through your connections. Yet, many executives don't make the most of this job search strategy.
Here are a few tips to help you build a successful business network that will sing your praises and refer you when high-level opportunities arise.
Craft A Memorable Introduction Pitch
Do you have a short pitch that highlights your value, builds your personal brand, and lets people know what type of role you are seeking? You often only have a few minutes to make an impression. With a well-rehearsed overview, you're prepared to meet new connections and introduce your leadership value.
Try something like: "I'm an expert in ______ focusing on _________, looking for a ___________ position, with emphasis on _________."
Identify what makes you unique and be prepared to further speak on the value you have to offer your industry or business target.
Nurture Your Current Network
Effective executive networking isn't just about meeting new people. How can you deepen relationships with the people you already know? If you've lost touch, reach out and revive the relationship.
Don't be afraid to put yourself out there, asking for coffee dates, informational interviews, or informal chats with acquaintances, to get to know them better.
Remember, the key to building relationships is not to focus on an ask. It is to focus on the other person. Let opportunities build organically from the connection.
Network Outside the Box
There are many different ways to successfully network. And, the more techniques you use, the better your chances of meeting someone who can introduce you to your next opportunity.
In addition to attending events or having direct conversations with key individuals, consider sharing your thought leadership on social media, striking up a conversation with someone outside the workplace, or reaching out to a notable authority in your industry to seek advice.
Everyone you meet is a potential connection. Take time to learn more about the people around you and ask *them* meaningful questions. Build rapport and create a positive impression.
Social Media – The key to using social media as an effective networking tool is to be active. LinkedIn is one of the best platforms for an executive search; maximize your headline, reach out to new connections, write articles and post helpful comments. Social media is a great way to build your personal brand and show your value, all while networking for your job search.
Professional Associations – If you aren't already involved, consider joining professional clubs and committees; be active within the organization, volunteering or offering to mentor new members.
Informal Networking –  Not everyone in your network has to be a professional colleague. Consider reaching out to friends and family as well, letting them know you are seeking a new executive opportunity.
Volunteer – Join non-profit boards or committees, volunteer within the community, or fundraise for local charities. You never know who you might meet!
Keep your Network Engaged
Don't expect favours without giving something in return. To successfully network, you want to help, share, and find common ground. Take it slow, building authentic relationships.
Be sure to keep in touch with your contacts consistently, not just when you are job hunting.
Be a Trusted Source of Information
Post often to social media, write articles for blogs in your industry, attend industry conferences, join committees, and offer to be a guest speaker. The more active you are within your professional community, the more you will come to mind when an opportunity arises.
Ask for Referrals and Endorsements
While not everyone in your network will know of a job opportunity, they may be willing to give you a recommendation, refer you to someone in their network, or endorse you on LinkedIn.
Send a personalized note to ask for these referrals, explaining why their opinion has such a high value to you. Also, be clear about your goal so people know exactly what you are looking for.  Saying you want a new 'executive role' is too vague. Feed the listener your pitch so they understand your target and can help you find well-suited opportunities.
Consider Consulting
Many companies augment their teams with consultants. Not only is it a great way to stay active, get your name out there, and meet new people, but it also helps position you as an expert in your field.
And you never know when a full-time position might open up!
Reach out to Staffing Specialists
Recruiters are a popular choice for companies looking to fill executive roles and are great connections to have within your network. Reaching out to let them know you are available is a terrific step to take as part of your job search.
Aim to locate a recruiter who is skilled in your area of expertise, and again, build a relationship with them. Although recruiters work for companies (and not job seekers), the better they know you and your skillsets, the better they can match you with opportunities.
Building a successful business network as an executive is a continuous process. The more effort you put into it, the better you can network your way into your next executive role.
For more articles on networking check out The Importance of Referral Strategy in Executive Job Search or Nurture your Network to Build Meaningful Relationships.